Aerofoam® NBR Flexible Elastomeric Rubber Insulation Rolls and Sheets are closed cell  foam structures with a non-porous composition that offers high thermal efficiency and protection from imminent condensation problems, and helps as sound absorber. Depending on the requirements of the market, this product can be coated with different types of foils and have a factory-applied self-adhesive backing. The installation time is reduced more than 40% due to the ease in cutting as well as quick adhesion of the material.
Aerofoam® NBR Rolls and Sheets come in handy where Aerofoam® (NBR) Nitrile Tubes cannot be used on pipes with big diameter. Other applications include ventilation ducts, tanks, and reservoirs, engine rooms as sound and thermal protection. Not only are they environmentally friendly, they pose no harm to human health, it has zero Ozone Depletion Potential (ODP), Global Warming Potential (GWP) of less than five, and a low Volatile Organic Compound (VOC) of less than 6 µg/m2/hr in 24 hours.  Aerofoam® NBR Rolls and Sheets comply with LEED requirements.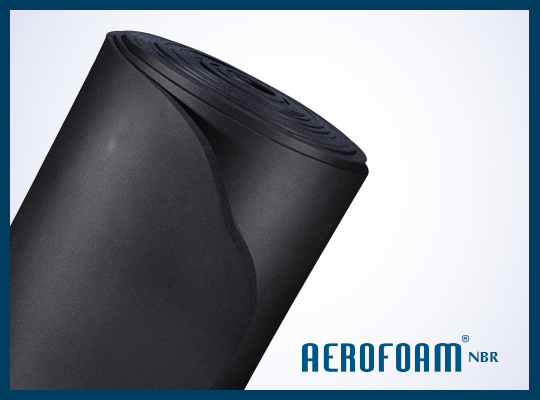 APPLICATIONS
Big diameter pipes (where tubes can't be used)
Ventilation ducts
Tanks, reservoirs
Engine rooms (as sound attenuates)
Fittings (valves, flanges, bends)
To install Aerofoam® NBR rolls and sheets in a professional manner, please drop an email at enquiry@aerofoamvietnam.com to receive the installation handbook.
PROPERTIES
Fire rated "CLASS O" as per BS 476 Parts 6 & 7
Very low water vapor permeance (0 perms)
High water vapor diffusion factor (> 17,000)
Very low water absorption rate (0.06% by volume)
High thermal efficiency (λ24˚ C = 0.033 W/mK; λ46˚ C = 0.035 W/mK)
Wide temperature range (from -50˚ C to +105˚ C)
Chemical resistance – resistant to most chemicals (sodium, silica, fluoride, chloride, etc.)
Antibacterial & antifungal
Environmental friendly – ODP = 0 and GWP < 5
Very low VOC emission level ( < 6 µg/m2/hr in 24 hours)
Sound absorption properties
Easy and fast to install.
Required Accessories :
GALLERY