Aerofoam® XLPE N CLAD system contains sheets, rolls, tubes and tapes. Insulation foam is made of  closed cell cross linked polyolefin coated with a strong and durable jacketing, which replaces costly and complex aluminum, zinc plated steel or stainless steel sheet facings. The foam has excellent properties in terms of condensation control, mechanical and chemical resistance, long term thermal block and sound absorption.
Aerofoam® XLPE N CLAD sheets, rolls, tubes and tapes have a very good dimensional stability, showing a "memory effect" (they tend to come to their original shape after being compressed).
Aerofoam® XLPE N CLAD sheets, rolls, tubes and tapes are an economical solution compared to the expensive and labor intensive aluminum, zinc plated steel or stainless steel cladding. Some of the benefits are the following: less skilled labor required, fast installation (50% faster than metal cladding), light weight material , safe to use (N Clad jacketing – no safety equipment required), easy to cut, no drill required (light punching tool is enough), no power tools required, easy and light to lift and carry, N Clad jackets can be cut on-site without waste (on a cutting table), space-saving storage.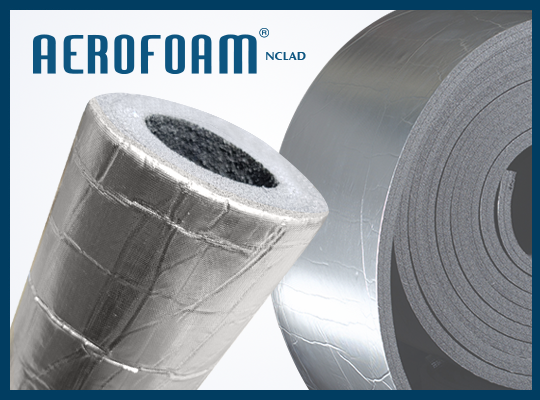 APPLICATIONS
Indoor and outdoor pipe, air ducts and tanks
Industrial pipelines (Chemical, Pharmaceutical, Oil and Gas, Food and Beverages)
To install Aerofoam® XLPE N CLAD in a professional manner, please drop an email at enquiry@aerofoamvietnam.com to receive the installation handbook.
PROPERTIES
UV and corrosion resistance
Fire rated "CLASS O" as per BS 476 Parts 6 & 7
Very low water vapor permeance (0 perms)
Water and water vapor resistant
Very low water absorption rate (<0.11% by volume)
High thermal efficiency (λ[W/(m•k)]
0.034 – 0.036
(24 °C – 46 °C)
Wide temperature range (from -80 ˚C to +100 ˚C)
Chemical resistance – resistant to most chemicals (sodium, silica, fluoride, chloride, etc.)
Antibacterial & antifungal
Environmental friendly – ODP = 0 and GWP < 5
Very low VOC emission level ( < 4 µg/m2/hr in 24 hours)
Good mechanical resistance
Easy and fast to install
Aesthetical look.
Required Accessories :
Aerofoam Glue
Aerofoam N Clad Tape
GALLERY